Piper MacDonald, Seaforth Highlanders
Western Desert, 23 September 1942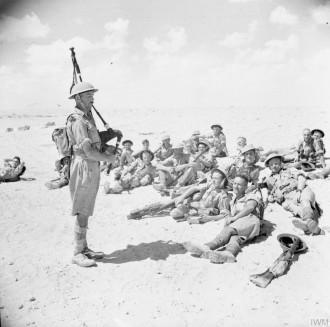 Supporting Information :
Description:
Caption reads "Piper MacDonald of the Seaforth Highlanders plays to some of the troops who make up the Highland Division while they rest during a march in the Western Desert, 23 September 1942."
Taken by Sgt.Martin 23.9.42.
With kind permission of the IWM.

Copyright:
IWM E 17339
Tags:
Personal Account / Extract References :
Extracts taken from The Queen's Own Highlander magazine issue commemorating the 50th Anniversary of El Alamein. The extract describes the use of the Camerons' Company Piper to alert the charging Black Watch of their position.
read more