Heavily Padded "Buffalo"
Rhine Crossing, Mar 45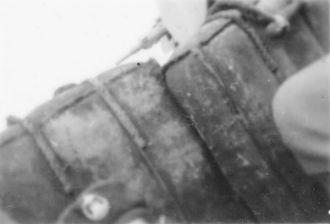 Supporting Information :
Description:
"Big heavy pads are required in order to hold the load when climbing out." Taken by B.R. van Wofften Palthe, crossing the Rhine with 152 Brig.

Credit:
B. van Wullften Palthe
Tags:
Division History References :
A set of photos taken by B.R. van Wulfften Palthe, interpreter attached to 152 Int. Brig. showing scenes from his crossing of the Rhine during Operation Plunder. Presumed to be with the 5th Seaforth at dawn on the 25 Mar '45.
read more