Radio Car Announces Rhine Crossing
23rd March 1945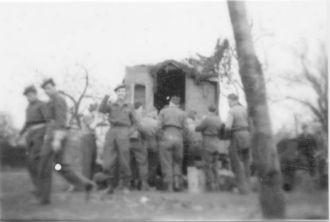 Supporting Information :
Description:
Photo taken by B.R. van Wolfften Palthe, Interpreter attached to 152 Brig. The annotation reads "At the radio car we heard on 24-3-45 (Bert'jes birth-date) "Our troops this morning crossed the Rhine"." (Bert was Palthe's second Son who was born on that same day but he would not meet him for several months due to being injury by shrapnel on 17/18 April 1945.

Credit:
B. van Wullften Palthe
Tags:
Division History References :
A set of photos taken by B.R. van Wulfften Palthe, interpreter attached to 152 Int. Brig. showing scenes from his crossing of the Rhine during Operation Plunder. Presumed to be with the 5th Seaforth at dawn on the 25 Mar '45.
read more