51st massed Pipes & Drums
Nijmegen, March 1945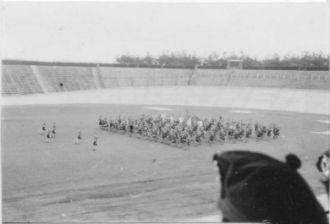 Supporting Information :
Description:
Annotation reads "[Beating the] Retreat by the 51st Highland Division massed Pipes & Drums at Nijmegen, 2nd March 1945, in commemoration of losses in Ardennes and Reichswald"
The photo, one of a series, was taken by B.R. van Wulfften Palthe at Goffert Stadion, Nijmegen.

Credit:
B. van Wullften Palthe
Tags:
Division History References :
152 Infantry Brigade at rest near Mook in March 1945 prior to Operation Plunder and the crossing of the Rhine.
read more