Massed Pipes & Drums
Nijmegen, March 1945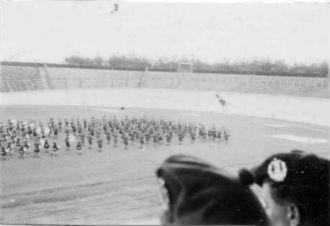 Supporting Information :
Description:
The handwritten caption reads "[Beating the] Retreat by the 51st Highland Division massed Pipes & Drums at Nijmegen, 2nd March 1945, in commemoration of losses in Ardennes and Reichswald"
The photo was taken at Goffert Stadion by B. van Wulfften Palthe, a Dutch Interpreter with Corps. Tolken attached to 152 Brig.

Credit:
B. van Wullften Palthe
Tags:
Division History References :
152 Infantry Brigade at rest near Mook in March 1945 prior to Operation Plunder and the crossing of the Rhine.
read more
The Operation to cross the Rhine was to be called Operation Plunder. The Plan for Operation Plunder was to cross on a two corps front with 51st Highland division on the left leading 30 Corps. The Divisional objectives on the other side of the Rhine were Honnepel and Rees.
read more