152 Inf. Brig. Officers
Mook, March 1945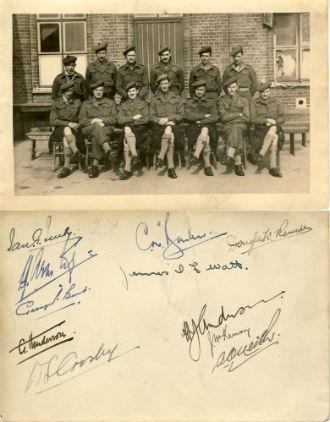 Supporting Information :
Description:
Photo of Officers from 152nd who stayed at "Castle Embourg" with the Laloux family in Dec '44 whilst their home housed 152 HQ. This photo matches the scene of a larger group photo which was placed at Mook nr Nijmegen during a rest period prior to the Rhine Crossing in March '45. The reverse carries signatures which match the handwritten list of Officers who stayed at Castle Embourg that was sent to us by Georges Laloux in 2009. George was 12 years old in Dec '44. This new photo was subsequently found by Georges' younger sister.

Credit:
Georges Laloux
Tags:
Division History References :
Scanned document kindly sent to us by Georges Laloux in December 2009 showing Officers from 152nd Infantry Brigade H.Q. [Seaforth Highlanders] who stayed in "Embourg Castle" during December 1944 and the Ardennes Campaign.
read more