(Reverse) 152 Brig. HQ
At rest nr. Mook, 1945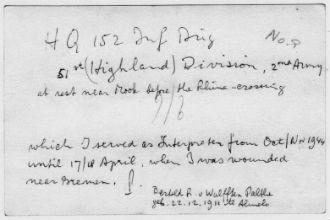 Supporting Information :
Description:
This is the handwritten annotation on the reverse of a photo taken by Bertold R. van Wulfften Palthe, an interpreter attached to 152 Brig.
The caption reads "HQ 152 Inf. Brig. 51st (Highland) Division, 2nd Army, at rest near Mook before Rhine-crossing. Which I served as Interpreter from Oct/Nov 1944 until 17/18 April, when I was wounded near Bremen."

Credit:
B. van Wullften Palthe
Tags:
Division History References :
152 Infantry Brigade at rest near Mook in March 1945 prior to Operation Plunder and the crossing of the Rhine.
read more