7th Argyll Pipers, German POW
7th May 1945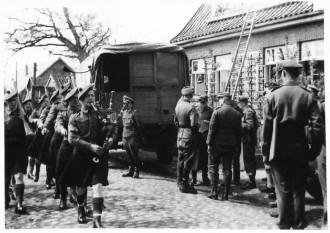 Supporting Information :
Description:
Care of the IWM, with kind permission.
Caption reads "While British and German officers talk in the road, the pipes of the 7th Argyles' go swinging by."
Taken by Sgt. Johnson. 7.5.45. Occupation of Bremerhaven.

Copyright:
IWM BU 5565
Tags:
Personal Account / Extract References :
Extract from "The Story of the 51st Highland Division Signals - June 1944 to July 1945" covering the German surrender at Ringstedt, 7-12th May 1945.
read more