SS Sir Evelyn Wood
Steamer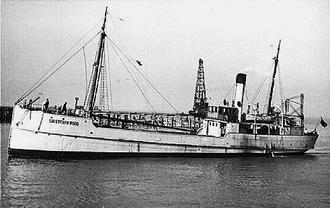 Supporting Information :
Description:
The SS Sir Evelyn Wood, a War Department Steamer, used in evacuate men from France in 1940 and the boat that Tom Garside was able to gain escape from St. Valery on the night of 11th June 1940. The steamer was built in 1896 and remained in War Dept. service until 1958 (cit.)

Credit:
Photo care of clydesite.co.uk and David Asprey
Tags:
Personal Account / Extract References :
Tom Garside's personal account of his lucky escape along the beach from St. Valery in June 1940.
Kindly sent to us by Tom's Son, Jim Garside.
read more