51st (H) Recce. Reg
June 1942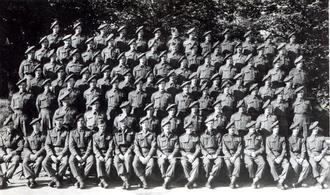 Supporting Information :
Description:
Richard Sands, who's Father (Sgt George Sands MM) served with the 51st, kindly sent us a scan of a photograph his Father had of the Sergeants and Warrant Officers of the 51st (H) Reconnaissance Regiment, taken in June of 1942 before their departure to Egypt where they would join the 8th Army in preparation for the battle of El Alamein.
Sgt George Sands served with both 2nd and 5th battalions. Sailing to North Africa, January 1942, as reinforcements/replacements for 2nd battalion at Tobruk. Before he had finished acclimatisation, Tobruk had fallen and 2nd battalion went into captivity. He fought for a few months with 4th Indian Div. He then joined 5th battalion when they arrived in Egypt some 6months later. He fought with 5th battalion from Alamein to Bremen.

Credit:
Richard Sands, Son of Sgt George Sands MM, 2nd and 5th Battalions
Tags:
Personal Account / Extract References :
An account of the 51ST (Highland) RECONNAISSANCE REGIMENT which existed from 1941 to 1943; taken from the more detailed 'A Brief History of 51st (H) Reconnaissance Regiment (1941 -1943) and its Involvement in the Desert Campaign', produced as a pamphlet in 1991, and describes the origins, raising and initial training of the Regiment prior to North Africa.
read more