Leslie A Meek Memorial Window
25 May 2008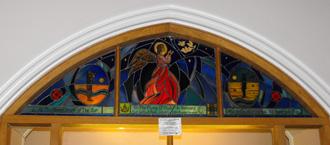 Supporting Information :
Description:
The 'Leslie A Meek Memorial Window' dedicated on 25 May 2008. Captain Meek was the author of 'The brief History of the 51st (H) Reconnaissance Regiment'.

Credit:
Photograph provided by Lieutenant Colonel (Ret'd) R J Towns MBE
High Resolution Image:
Tags:
Division History References :
Stained glass memorial window in Nairn Old Parish Church, dedicated to the 51st (Highland) Reconnaissance Regiment and Captain Leslie A Meek.
read more