Telegram from Pte. Harry Knox
8th May 1945, VE Day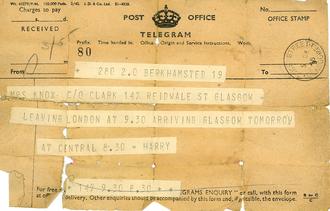 Supporting Information :
Description:
Pte. Harry Knox sent this telegram home to Mrs Knox announcing his imminent arrival home after more than five years away. The postmark places it on 8th May 1945, VE Day.
The telegram is sent from Berkhamsted, the train station only a few miles from No. 91 Reception Camp at Amersham, where Harry had been stationed after being liberated from a German POW camp by Allied forces.

Credit:
Thanks to Caron Paterson, Harry's Daughter, for sending this into us.
Tags:
Division History References :
Caron Paterson very kindly sent us a set of scanned photographs that belonged to her Grandfather, Pte. Harry Knox, and are from his times as a WWII POW in Stalag IX-C in Germany between 1940 - 1945. The set include several of a comedy sketch show put on by the POWs.
read more