Pte. Harry Knox
Christmas Time, Stalag IX-C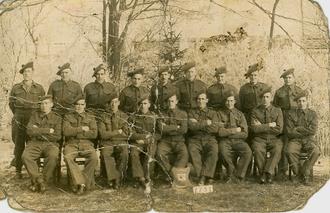 Supporting Information :
Description:
This photos includes Pte. Harry Knox, centre, bottom row, sitting behind shield or plaque.
The date is unknown, however, we know it is Christmas time as the pine tree behind the group has Christmas decorations and candles hanging from it.
The photo is annotated with a marker No. 1751 and is part of the officially catalogued photos in the collection belonging to Pte. Harry Knox, Gordon Highlanders, who was a POW at Stalag IX-C from 1940 - 1945.

Credit:
Thanks to Caron Paterson, Harry's Daughter, for sending this into us.
Tags:
Division History References :
Caron Paterson very kindly sent us a set of scanned photographs that belonged to her Grandfather, Pte. Harry Knox, and are from his times as a WWII POW in Stalag IX-C in Germany between 1940 - 1945. The set include several of a comedy sketch show put on by the POWs.
read more