Funeral at Stalag IX-C
Pte. Knox POW Photographs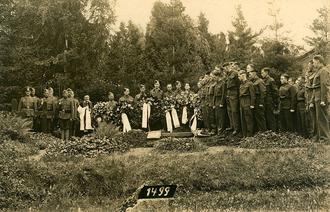 Supporting Information :
Description:
German and British Men attending a funeral.
Date and deceased unknown. Officially annotated with No. 1499, making this one of the earliest in the collection of catalogued photos belonging to Pte. Harry Knox, Gordon Highlanders, who was a POW at Stalag IX-C from 1940 - 1945.

Credit:
Thanks to Caron Paterson, Harry's Daughter, for sending this into us.
Tags:
Division History References :
Caron Paterson very kindly sent us a set of scanned photographs that belonged to her Grandfather, Pte. Harry Knox, and are from his times as a WWII POW in Stalag IX-C in Germany between 1940 - 1945. The set include several of a comedy sketch show put on by the POWs.
read more