J.Matheson, Stalag 9c, 1942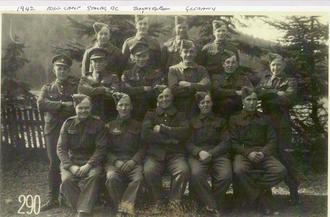 Supporting Information :
Description:
1942, J.Matheson, Stalag 9c (Johnnie Matheson is marked as top row, second from left.)

Tags:
Division History References :
Johnnie Matheson retells the story of his five escape attempts from POW camps between 1940 - 1945.
He walked into wartime captivity with a haversack full of looted French franc notes of doubtful value from a bombed bank in St Valery - and more than five years later drove across a war-torn Europe heading for his Highland home in a brand new BMW car festooned with American stars and stripes, and a legitimate fortune in pounds sterling in his pocket.
read more