Victory Parade, Tripoli
7th Black Watch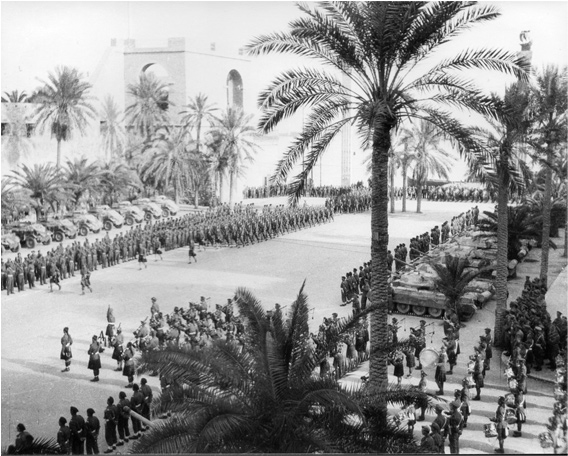 Supporting Information :
Description:
Victory parade by 7th Black Watch after Tripoli was captured on the morning of 23rd january 1943.

Copyright:
Black Watch Museum
Tags:
Division History References :
The 51st Highland Division moved along the cost with the New Zealand Division and 7th Armoured Division carrying out a flanking attack. Failure to succeed in occupying Tripoli would cause Montgomery to have to fall back...
read more
Personal Account / Extract References :
This short account of 127(HD) FIELD REGIMENT RA 1942 - 1945 ("from the Nile to the Weser") has been provided by Ms Mary Duffus. It was given to her father in the Battery Office on disbandment at the end of the war. He served with the 51st Highland Division, 301/127 (H) Fld Regt RA, as a fitter seeing service at El Alamein, Sicily, Normandy and right through to Bremerhaven. After the war he rejoined the TA and was commissioned in the REME.
read more