Royal Artillery Battery
27th March 1945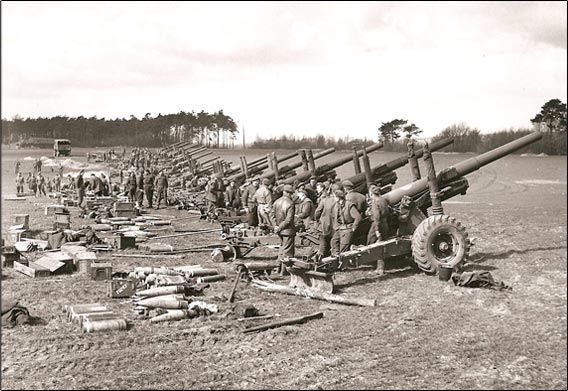 Supporting Information :
Description:
The 5.5 inch guns of 235 and 336 Medium Batteries Royal Artillery line up to fire in support of the Rhine Crossing. 27th March 1945.

Copyright:
IMW - B 15767
Tags:
Division History References :
The Operation to cross the Rhine was to be called Operation Plunder. The Plan for Operation Plunder was to cross on a two corps front with 51st Highland division on the left leading 30 Corps. The Divisional objectives on the other side of the Rhine were Honnepel and Rees.
read more
Personal Account / Extract References :
This short account of 127(HD) FIELD REGIMENT RA 1942 - 1945 ("from the Nile to the Weser") has been provided by Ms Mary Duffus. It was given to her father in the Battery Office on disbandment at the end of the war. He served with the 51st Highland Division, 301/127 (H) Fld Regt RA, as a fitter seeing service at El Alamein, Sicily, Normandy and right through to Bremerhaven. After the war he rejoined the TA and was commissioned in the REME.
read more