Pipe band of the 51st
May 1945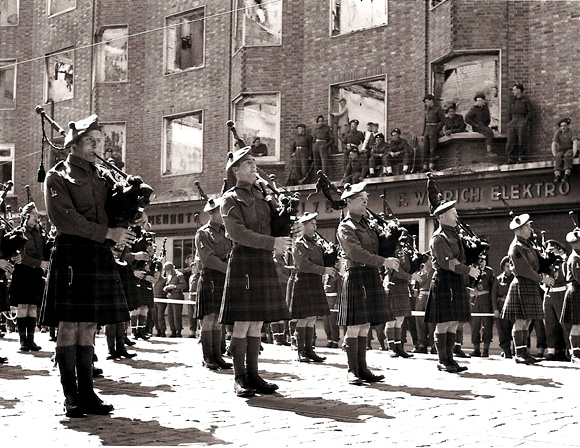 Supporting Information :
Description:
The pipe band of the 51st Highland Division play during the ceremony to mark the handover of Bremerhaven by British to American forces in Germany under allied occupation.

Copyright:
IWM BU 6560
Tags:
Division History References :
An introduction to the history of the 51st Highland Division.
read more
After a brief rest in Isselburg orders were received on the 3rd April for the 51st Highland Division to concentrate at Enschede. The Divisional advance from Enschede would be to Salzbergenm, Lingen, to Quakenbruck, Vetchta, Wildeshausen, Delmenhorst, Bremen and finally Bremerhaven. Germany was now collapsing...
read more
Personal Account / Extract References :
Extract from "The Story of the 51st Highland Division Signals - June 1944 to July 1945" covering the German surrender at Ringstedt, 7-12th May 1945.
read more