Henry Owens, Work Camp, Gorsdorf, 1942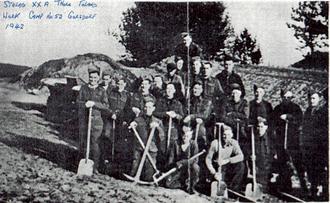 Supporting Information :
Description:
Henry Owens at Work Camp No.52, Gorsdorf, 1942. Henry notes that this photograph was "a propaganda picture taken by the German authorities for a German magazine. The British uniforms were given to us for the photograph and were promptly taken back. A German guard took a couple of photographs for us, showing the real situation."

Credit:
Thanks to Robert Owens (son of Henry Owens)
Tags:
Division History References :
Henry Owens describes life and forced labour at Stalag XXa Camp 52, Gorsdorf, Poland. 1940 - 1942
read more