Ceremony Returning 5/7th Gordon Highlanders' Drum
Munich, Germany, June 1945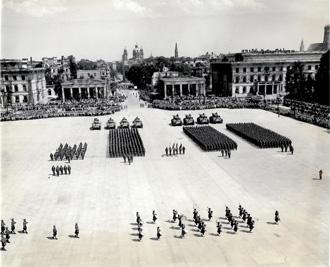 Supporting Information :
Description:
American 10th Armored Division in formation in front of 8 tanks. 5/7th Gordon Highlanders parade in foreground. Part of the ceremony to return the 5th Gordon Highlanders' Drum, lost in 1940.

Tags:
Division History References :
Set of photos showing American Forces conducting a ceremony to hand over a drum of the 5th/7th Gordon Highlanders which had been lost in 1940. (c. Photo 1945/46, City unknown).
Photo is part of a set sent to us by Dave Clark who's Father was 320391 Lieutenant James Henderson Clark of 5th/7th Gordon Highlanders.
The set show the 5/7th Gordons on parade as part of the ceremony as well as the hand-over itself.
read more